There you sit barred and buckled into a scream machine climbing steadily to 208 feet, the amusement park far below, the fear palpable as your car approaches the summit. At that awesome moment your eyes drift warily over the giant's superbly crafted metal infrastructure, and you wonder what it takes to design a roller coaster; well, maybe not. Roller coaster design is engineering plus art.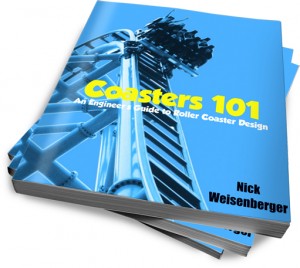 Coasters 101: An Engineer's Guide to Roller Coaster Design is not a textbook. It is an introduction, (not unlike the rookie 101 academic classes we all sat through), meant to provide a better understanding of the diverse scientific thought processes, from concept to creation, that make ever more ambitious thrill rides feasible and possible. And though some fundamental knowledge of physics and formulas such as velocity, acceleration, and g force will certainly help,  you won't need a PHD to follow along to learn about roller coaster design.
*Warning: Side effects of reading may cause dizziness, nausea, or  the sudden urge to visit a theme park.
The complete Coasters 101 Table of Contents is embedded below:
Read What Others Are Saying About Coasters 101:
"If you are a nerd, then you will love this book. Interesting… enjoyable." -T. Russell, Amazon.com
"The book all aspiring roller coaster designers have been waiting for!" - B.W.
"I thought it was great. It was a good first look at roller coaster design. It also gave great information and details about roller coasters in general." – Adrina from Goodreads
"Your book is fascinating and one of a kind which makes it invaluable! " -Susan
The Second Edition includes interesting new content like:
History of the roller coaster
Detailed description on launch systems
A people powered coaster
How a 4th dimension coaster works
Evolution of the modern vertical loop
And that's not nearly all. You'll discover much more in this rare book. And what's really great is that…
You Can Begin Learning About Roller Coaster Design In The Next 30 Seconds!
The ebook price is a great value as the paperback version sells for $11.99USD. Coasters 101: An Engineer's Guide to Roller Coaster Design is now available in paperback and many ebook formats, including Kindle, Nook, etc.
Not ready to buy yet? To get a taste of the type of material found in the book check out our free additional articles or join our email newsletter.
Share and Enjoy